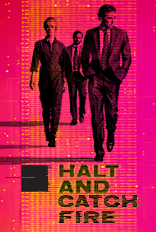 Halt and Catch Fire
is AMC's latest attempt at prestige drama after the astronomical success of
Breaking Bad
and
Mad Men
. Set in 1983, the show is a fictionalized account of the early years of the personal computer revolution, when companies were desperately competing to create a computer that would be used by families in every American home.
Lee Pace stars as Joe MacMillan, a mysterious man who shows up at Cardiff Electric, a Dallas software company, with ambitions to build a PC that could surpass IBM's Personal Computer. He is full of ideas and is a brilliant marketer but he lacks any technical know-how. Scouting college students, he discovers Cameron Howe (Mackenzie Davis), a brilliant young woman who understands the future of computing and is impatient to make her mark. She aspires to be like
Ada Lovelace
and Joe quickly recruits her. At Cardiff, he also finds software engineer Gordon Clark (Scoot McNairy), a man who has failed ambitions of his own. However, inspired by Joe, he starts to believe that this is his second chance to build the computer of his dreams. His wife, Donna (Kerry Bishé), who is also an engineering whiz, is wary, knowing that her husband's projects have caused him tremendous grief in the past. But before long, she is swept up in the madness and along for the ride.
The show is a wonderful period piece, shot and designed with an unmistakable 80s feel that instantly transports you back in time. Some episodes can be a bit slow or heavy on tech-speak, but the actors are putting in wonderful performances that highlight the characters' passion and drive. It is particularly refreshing to have two strong female leads who are even more tech savvy than their male peers. In several episodes, it is Donna or Cameron who has to save the day when a computer crashes or a hard disk is erased while their male colleagues wring their hands in despair. Even though Silicon Valley remains a male-dominated sphere today, the show's creators are at least doing their part to acknowledge the great female engineers who contributed to the technological revolution.
Halt and Catch Fire
is a fascinating glimpse into the first steps that led to the laptops and tablets we all own today. It's incredible to consider how dated all the technological concepts sound when you consider that these events were taking place just a few decades ago. We are living in the future these characters are envisioning and they have no idea the innovations that will ensue from their project. So, as Sunday night is the show's finale, it's time to start binge-watching on your PCs, tablets, and phones, and marvel at how far we've come.