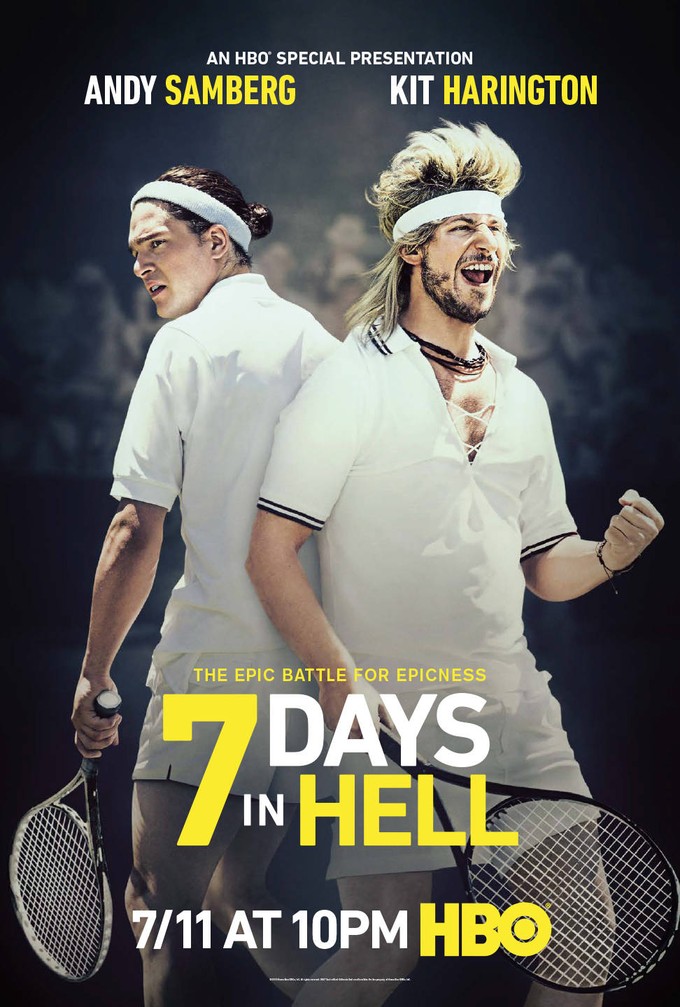 7 Days in Hell
, starring Andy Samberg and Kit Harington, was a 45-minute HBO "special event" mockumentary that told the story of an epic 7-day Wimbledon match between two very bizarre tennis players. It aired in mid-July but if you missed it like me, you can watch it on HBO. It's only 45 minutes long, so I feel like I should just end this review here, but I suppose you might need a little more context.
Samberg plays the American, Aaron Williams, an Andre Agassi-esque "Bad Boy of Tennis." Hint: it is no coincidence that his last name is Williams. Harington plays the Englishman, Charles Poole, a fresh-faced dimwit whose overbearing mother forced him into tennis at the expense of any proper education. For the first half of the movie, we are introduced to these two men and their wildly different but equally bizarre backstories. We meet the people who influenced them and shaped their lives, and learn about all the events that led to their fateful match at Wimbledon.
The second half brings us to the match itself. Written by Murray Miller, this script was inspired by the 2010 Mahut-Isner match that took place over three days and broke the record for the longest tennis match in history. Comedy relies on hyperbole, so for this movie, we end up with a match that goes on for seven days. I can't even begin to divulge the various reasons it goes on for that long. Suffice to say, it is just as bizarre and preposterous as you would expect from something built on such a bonkers premise to begin with.
7 Days in Hell
is like watching an extended Saturday Night Live sketch that goes on for just the right amount of time and contains just the right mix of low-brow and surreal humor. Samberg and Harington are clearly having the time of their life playing these weird characters (yes, it's odd to see Harington playing the clean-shaven antithesis to Jon Snow), and the entire movie is tightly edited to deliver maximum comedic impact. It's a weird little story that could only exist on HBO, and if you're looking for something diverting, I highly recommend it. It definitely won't be to everyone's taste, but if you like odd comedy that is stuffed to the gills with unexpected and delightful cameos, this is one of the best ways you could spend 45 minutes of your day.