Last night marked the triumphant return of
Downton Abbey
to the PBS Masterpiece Classic schedule. Created by Julian Fellowes, the Oscar-winning scribe of Gosford Park, the series was a breakout hit when it aired stateside last January. The
second season
aired in the fall in the UK, but US viewers finally have the chance to (legally) watch it now.
If you have been living under a rock this past year and did not catch Downton fever, let me catch you up. The series begins in 1912 and revolves around the aristocrats and servants who live at Downton Abbey, a lavish Yorkshire estate. The fictional Downton is filmed at the very real Highclere Castle and that setting alone will make you gasp. A mere 100 years ago, people actually lived like this, and part of Downton's appeal is how it gets you to yearn for this life and then realize you'd go insane if you had to live with that many rules and regulations.
The heads of the household are Lord and Lady Grantham, a loving couple with three daughters. Unfortunately, their daughters cannot inherit Downton because it is tied up in entail and can only go to a male heir. They've sorted out this problem because the eldest daughter, Mary, is engaged to her cousin, the son of the heir presumptive, so the estate will ultimately be kept in the hands of the family. Unfortunately, it's 1912. Remember what big historical event took place in 1912? The Titanic sank. And in the world of Downton Abbey, this is a devastating tragedy because the heirs to the estate sank along with it. So now they have to scramble to figure out who the next heir is. Enter Matthew Crawley, a lawyer who lives with his mother in London. Now he finds himself poised to inherit a title, an estate, and the enmity of all these people who think it is terribly unfair that a relative stranger will get to take away their home.
This is just how the show begins. And that's just the plot for the first half hour or so. The rest of the series proceeds in whiplash-inducing fashion, with twists and turns in every episode and a plethora of hysterical one-liners courtesy of the Dowager Countess (Lord Grantham's mother) played with searing sarcasm by Dame Maggie Smith. These are just the problems with the upstairs characters. Downstairs, there's a whole mess of intrigue, jealousy, and romance raging among the various footmen, butlers, maids, cooks, dogsbodies, etc. that make up the household staff.
If you haven't watched Downton Abbey yet, you are genuinely missing out on a cultural phenomenon. This is an impeccably written, hugely entertaining, vastly enjoyable piece of television history and you need to at least give it a try before you completely dismiss it. One of the best things to happen on the Twitterverse over Christmas was that comedian Patton Oswalt started watching the
Season 1 DVD
of Downton and proceeded to regale his Twitter followers with his instant love for the drama.
This
was his first tweet and if you care to scroll through his subsequent revelations, his enthusiasm is quite catching. You have until Jan 17th to watch the entire first season on the PBS
website
and then you can get started with the second season which takes place during World War I and sees Downton transformed into a convalescent home. The stakes are even higher, the drama (and the comedy) get even more exhilarating, and I loved every minute of it. Yes, I found a way to watch the entire
second season
already and it was a highlight of my fall TV schedule. And the Christmas special that wrapped up the season was the most astonishingly feel-good bit of TV I had experienced all year.
The series won a bunch of Emmy's in September and is nominated for a bunch of Golden Globes this Sunday. If I have anything to say about it (which I don't) they are definitely going home with some trophies, especially Maggie Smith. Now go ahead. You have a lot of amazing television to watch, and if this is your first time at Downton Abbey, I truly envy you.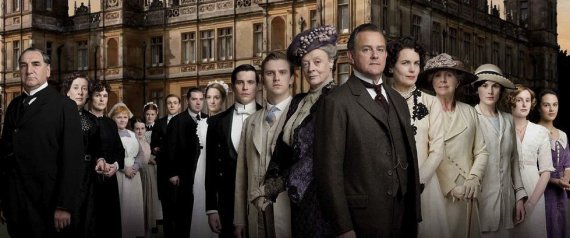 The gigantic cast, all of whom deserve a Golden Globe of their very own